Services
Offset printing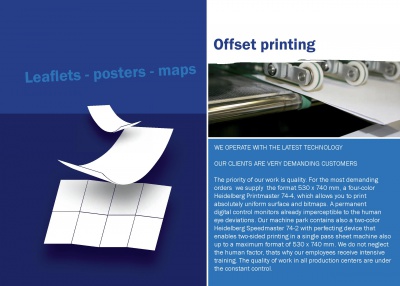 We operate with the latest technology - our clients are very demanding customers.
The priority of our work is quality. For the most demanding orders  we supply  the format 530 x 740 mm, a four-color Heidelberg Printmaster 74-4, which allows you to print absolutely uniform surface and bitmaps. A permanent digital control monitors already imperceptible to the human eye deviations. Our machine park contains also a two-color Heidelberg Speedmaster 74-2 with perfecting device that enables two-sided printing in a single pass sheet machine also up to a maximum format of 530 x 740 mm. We do not neglect the human factor, thats why our employees receive intensive training. The quality of work in all production centers are under the constant control.
Practical tools for writing.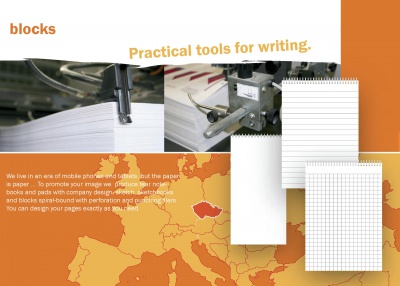 We live in an era of mobile phones and tablets, but the paper is paper ... To promote your image we  produce tear notebooks and pads with company design, sketch, sketchbooks and blocks spiral-bound with perforation and punching filers. You can design your pages exactly as you need.
Periodic and aperiodic printed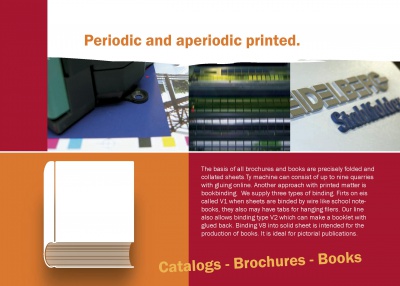 The basis of all brochures and books are precisely folded and collated sheets.Ty machine can consist of up to nine quarries with gluing online. Another approach with printed matter is bookbinding.  We supply three types of binding. Firts on eis called V1 when sheets are binded by wire like school notebooks, they also may have tabs for hanging filers. Our line also allows binding type V2 which can make a booklet with glued back. Binding V8 into solid sheet is intended for the production of books. It is ideal for pictorial publications. 
Place for your corporate advertising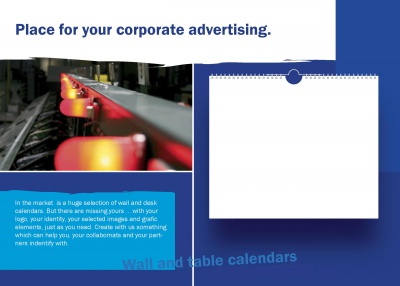 In the market  is a huge selection of wall and desk calendars. But there are missing yours ... with your logo, your identity, your selected images and grafic elements, just as you need. Create with us something which can help you, your collabornats and your partners indentify with.
Be creative and customize your own advertising material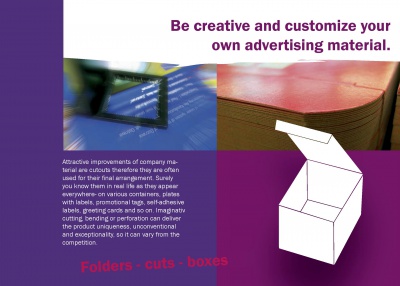 Attractive improvements of company material are cutouts therefore they are often used for their final arrangement. Surely you know them in real life as they appear everywhere- on various containers, plates with labels, promotional tags, self-adhesive labels, greeting cards and so on. Imaginativ cutting, bending or perforation can deliver the product uniqueness, unconventional and exceptionality, so it can vary from the competition.
Stylish presentation and storage
of

documents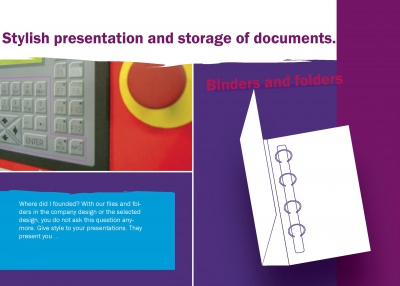 Where did I founded? With our files and folders in the company design or the selected design, you do not ask this question anymore. Give style to your presentations. They present you ...